Dermaplaning, also known as epi-leveling, is a manual exfoliation alternative to chemical peels and microdermabrasion.
Discover how this popular beauty technique can leave your skin smoother, brighter, and more radiant, with reduced fine lines and acne scars. Learn about the benefits, risks, and aftercare of dermaplaning, and find out if it's right for you.
Dermaplaning facial being the best choice for anyone who has fine facial hair, extremely sensitive skin, redness / rosacea, or telangiectasia. This treatment is performed using a surgical blade to gently exfoliate dead skin cells in the Stratum Corneum and removes the vellus hair, commonly known as "peach fuzz", which can trap excess dirt and oil. A noticeable improvement is immediate with smoother texture and fresh skin appearance. Hair returns softly and will not become coarser due to this treatment.
FACIAL DERMAPLANING IS EXFOLIATION

As with any type of exfoliation, the removal of dead skin cells allows home care products to be more effective, reduces the appearance of fine lines, evens skin tone and assists in reducing milia, closed and open comedones, and minor breakouts associated with congested pores.
Dermaplaning near me can be an effective exfoliation method for clients that have couperose (tiny blood vessels near the surface of the skin), sensitive skin or allergies that prevent the use of microdermabrasion or chemical peels Clearwater, Tampa Bay.
Is Dermaplaning Right for Me?
Dermaplaning is ideal for women of all skin types and colors in their 30's and beyond who are interested in improving the health and appearance of their skin. It is a quick procedure with few to no adverse effects. Dermaplaning is an alternative to chemical peels and is a good choice for anyone who has fine facial hair (peach fuzz), extremely sensitive skin, redness or rosacea.
What Results Can I Expect?
Brighter, softer skin that glows with renewed health. You'll also notice a reduction in the appearance of fine lines, hyperpigmentation and superficial acne scars. Your results are immediate after Dermaplaning facial. That is one of the great things about Dermaplaning treatment.

No downtime and no waiting to look your best. This is the perfect treatment before a social event!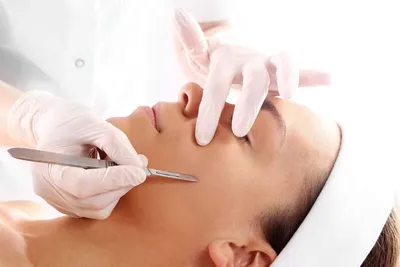 How Long Do Treatments Take?
Dermaplaning treatments can be as short as 30 minutes or can be part of a 60 or 75 minute facial that incorporates enzymes, extractions, masks, infusions, light therapies and/or chemical peels. Your aesthetician will help you determine the right combination for your skin. 
How Often Should I Come in for Dermaplaning?
We recommend coming in every 4 weeks to maintain results and continue to see improvement in skin tone and texture while diminishing acne scars. Results are cumulative so your skin will continue to improve each time you come in.
Aftercare Dermaplaning Facial in Tampa Bay, Clearwater.
Proper aftercare is essential to get the most out of your dermaplaning treatment. Learn about the dos and don'ts of dermaplaning aftercare, including how to care for your skin, what to avoid, and how to extend the results of your treatment.
Discover expert tips for reducing redness, inflammation, and irritation, and find out how to protect your newly smooth and radiant skin from the sun and other environmental factors. Get everything you need to know about dermaplaning aftercare in this comprehensive guide.
Aftercare of dermaplaning is important to help your skin heal and look its best.
Here are some tips for aftercare:
Avoid sun exposure: Direct sun exposure can damage the newly revealed skin. Therefore, it is essential to wear sunscreen and avoid the sun as much as possible for at least a week after the procedure.
Avoid skin irritants: Avoid using any harsh skincare products, including those that contain alpha-hydroxy acids (AHA) or retinoids for at least 24-48 hours after the treatment. It is also advisable to avoid any chemical peels, microdermabrasion or laser treatments for at least two weeks.
Avoid touching your face: To avoid any risk of infection, avoid touching your face with your hands for at least 24 hours after the treatment. Also, avoid applying makeup for 24 hours.
Keep your skin moisturized: Use a gentle moisturizer on your face after dermaplaning to keep your skin hydrated and supple.
Stay hydrated: Drink plenty of water to keep your skin hydrated from the inside out.
Be gentle: Avoid scrubbing your face or using harsh exfoliants for at least a week after the treatment.
Follow up with your esthetician: It is essential to follow up with your esthetician to ensure proper healing and to schedule your next appointment.
Remember to always consult with your esthetician or healthcare provider for specific aftercare instructions based on your skin type and individual needs.