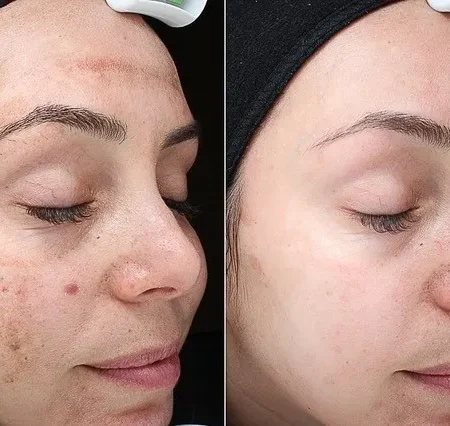 VI Derm Purify with Precision Plus is our most comprehensive peel for acne and acne scarring. This advanced acne solution works synergistically to combat active acne symptoms while repairing dark areas on the skin.

This chemical peel helps to fade textural scarring and Post Inflammatory Hyperpigmentation (PIH) caused by acne breakouts.

For Skin Concerns- Excessive Oil, Acne with Hyperpigmentation, Acne Scarring, Adult Acne .
Reduces P. acne bacteria, comedones, and sebum production in the skin as it unclogs congested pores. Fades acne scarring and pigmentation while promoting healthy cell regeneration.
Also, this Peel for Active Acne & Oily Skin The VI Peel Purify is a highly effective treatment for acne and addresses a variety of concerns caused by acne symptoms. This unique formula combination increases cellular turnover to open pores and reduce comedones, kill p. acnes, and balance the skin for fewer breakouts. For Skin Concerns- Active Acne Breakout-Prone Skin Oily and Congested Skin Teen Acne Product Benefits Increases cellular turnover to clear pores Eliminates P. acne bacteria Soothes inflammation and redness Product Features Safe for all skin types Medium-depth peel Results within 7 days Safe to use for all Fitzpatrick types I-VI