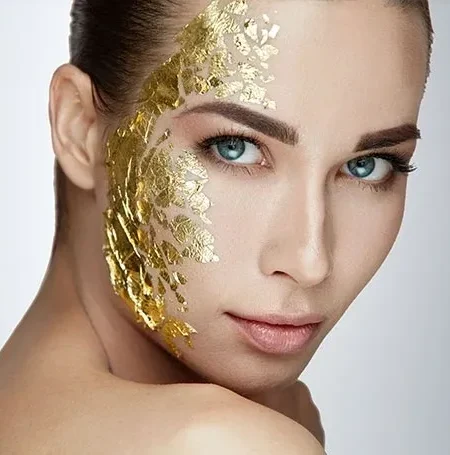 Gold Facial is a luxurious and relaxing treatment. This facial uses a mask of pure 24 karat gold. It includes cleansing, exfoliation with ultrasound, massage, oxygen treatment, and the gold mask. Gold is well known for its ability to remove toxins. It helps to repair oxidation damage and is a great treatment for polluted skin.
A Gold Facial is a luxurious and indulgent skin care treatment that uses gold-infused products to help improve the appearance and texture of the skin. During the treatment, a trained aesthetician will cleanse and exfoliate the skin before applying a special serum that contains real gold particles.
The gold particles help to improve the skin's elasticity and firmness, while also reducing the appearance of fine lines and wrinkles. Additionally, the serum contains other nourishing ingredients such as antioxidants, vitamins, and minerals, which can help to hydrate and rejuvenate the skin.
After the serum has been applied, the aesthetician will typically massage the skin using a gold facial massager, which can help to increase blood circulation and promote lymphatic drainage. Some versions of the Gold Facial may also incorporate a gold-infused mask, which can further enhance the benefits of the treatment.
Overall, a Gold Facial can be a relaxing and indulgent way to pamper the skin, while also providing a number of anti-aging benefits. It's important to note that individual results may vary, and it's always a good idea to consult with a licensed aesthetician or dermatologist before undergoing any type of skin care treatment.