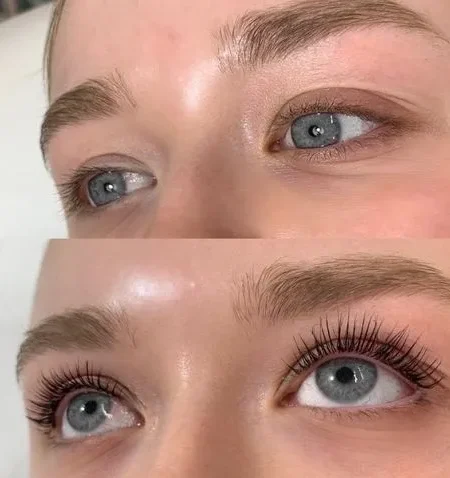 Lash tinting allows people to have the eyelashes they want without having to bother with mascara. Eyebrow tinting gives you bolder, natural looking eyebrows since the actual hair of the eyebrow is tinted to a darker color, eliminating that "drawn on" look.
Lash tinting is a cosmetic treatment that involves the use of a semi-permanent dye to color the lashes. This service is performed by a trained beauty professional at our spa.
During the treatment, the client's eyes are closed, and a protective cream is applied around the eye area to prevent any accidental staining. A specialized dye is then applied to the lashes using a fine brush. The dye is left on for a few minutes before it is gently removed with water.
The result of a lash tint is a darker, more defined lash line, which can enhance the appearance of the eyes without the need for mascara or other makeup products. Lash tinting can also make the lashes appear fuller and thicker, and it can last for several weeks, depending on the client's individual lash growth cycle.
Lash tinting is a popular service for those who have fair or light-colored lashes, as well as those who want to enhance the natural beauty of their eyes without the need for daily makeup application. It is a relatively quick and painless procedure that can be done in just 20-30 minutes, making it a convenient option for those with busy schedules.